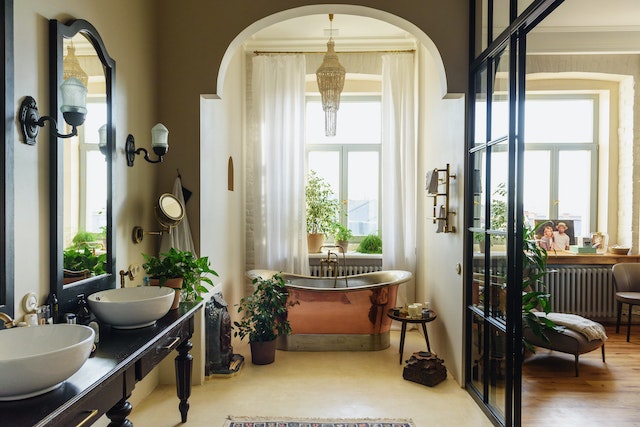 There are many details to be thought of when building or renovating and anyone who, in this process, sees the bathroom as an environment that is easy to decorate is wrong. Have you ever wondered the impression that a bathroom leaves us when visiting someone's home or a commercial establishment? If so, surely you have already noticed that the organization, harmony and cleanliness aspects help us to build in the imaginary even the behavioral characteristics of a person or the credibility of a company.
In addition, the more time people spend in their homes, the more they realize how environments impact mood, quality of life and comfort for carrying out their activities. It is no different with the bathroom, after all, in this small space , there are many daily activities, from hygiene, relaxing after a long day at work in a hot shower or bath, daily skincare, makeup, and so on.
With all these functions and a direct impact on the emotions of users, the bathroom has become the protagonist of many projects. The solutions range from minimalism to the experimentalism. Because it is a small space, it is ideal for a differentiated decoration that escapes monotony, especially if the client is afraid of getting bored with innovations or extravagances. The project, however, is always very particular to the reality and needs of each client, after all, good design is not just aesthetics, but when it achieves adequate functionality.
With that in mind, we prepared this article with valuable tips to help you design residential bathrooms, ranging from technical data on layout, size, lighting and suitable materials, to creative decorating suggestions.
1. Arranging the Bathroom Layout
There is no rule, in fact, to organize the distribution of elements in a bathroom, except in the case of NBR 9050, which deals with bathrooms with accessibility for people with disabilities. However, there are social conventions that dictate the layout of bathrooms with privacy in mind culturally.
In case you didn't know, all residential environments in the conventional pattern that we see today, come from a long process of cultural adaptation. In the case of the bathrooms, they were initially separated from the houses, however, with the advance in the sanitary sewage structure and the behavioral change, it is that they started to compose together with the other environments.
Still in cultural terms, in bathrooms in the Western world, for example, it is common to use a toilet to sit on, whereas in the east it can be used on the floor. Even the organization of elements in space can vary.
In the United States, the use of bathtubs is common. There are other countries where the toilet is in a room divided from the bathing area, or even both separated from the washbasin area.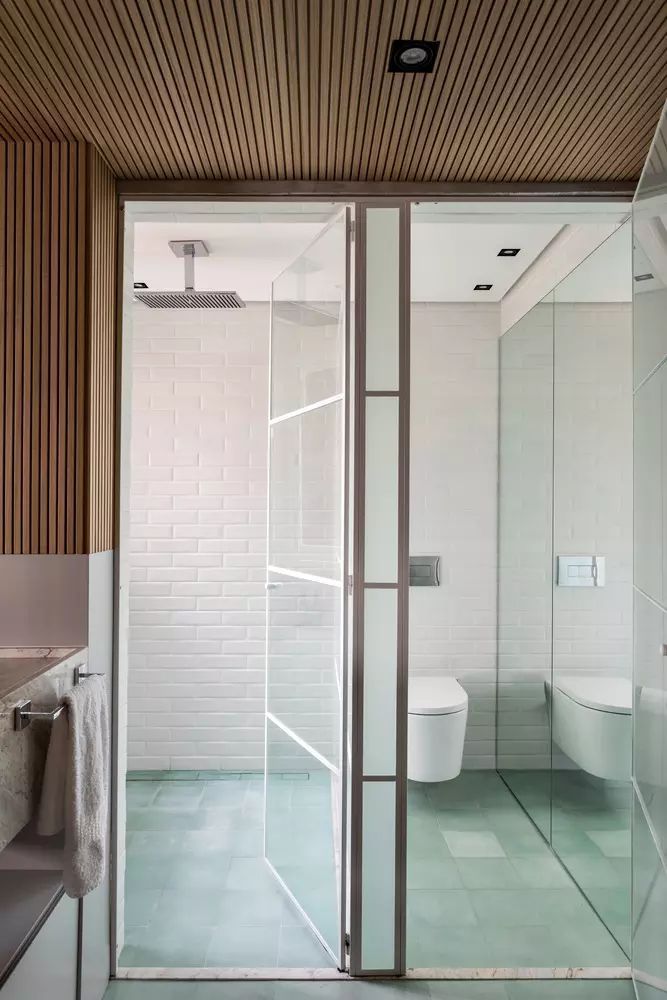 Another curiosity are bidets, which were very common in homes in the 1990s and have fallen into disuse, but there are still places where they are popular.
Although this is the smallest room in a house, it has different installations affecting the space: hydraulic, electrical and gas heating, which require a good compatibility project for the best adaptation of the elements in the space. It is usually a reduced environment to be able to expand the space of others, such as bedrooms.
However, there are considerations to be made so that it works minimally comfortably. In this sense, the ideal size starts at 2.4 square meters, in addition, it is necessary to choose the appropriately sized bathroom fixtures without compromising circulation and the shower area, whose minimum area is around 0.8 square meters.
In general, the bathrooms have a washbasin, toilet and shower. Thinking about user movement and the economic distribution of installations, these elements are usually placed exactly in the aforementioned sequence on the same wall. Another advantage of working with these templates is that the bathroom, in rectangular format, tends to fit more easily into the plans, for example in the side sequence of the bedroom.
The layout format in which the environment is square is also common, in this case, to accommodate all the elements, the box is installed in the corner. It is a solution when you have little footage and space does not allow for linear allocations.
In addition to care for circulation and internal functionality, another special care, when composing the layout, is to pay attention to the look of the bathroom entrance door. Never place the toilet or shower box facing the door, as the organization of the elements is essential for privacy. In cases of low space, where this may occur, rethink the port allocation. ‍
2. Working with Small Bathrooms
More and more apartments come in compact formats, especially bathrooms, and thus become a challenge to design. A tip when working with small spaces is to invest in coatings, whether ceramic or paint in the same color, this helps to expand the space, giving the feeling of stretching. In addition to color, rectangular formats also help in the perception of amplitude.
It is also interesting to opt for custom-made furniture, compact, with mirrors to accommodate more items, combined, if possible, with a locksmith project to optimize the metals in the environment.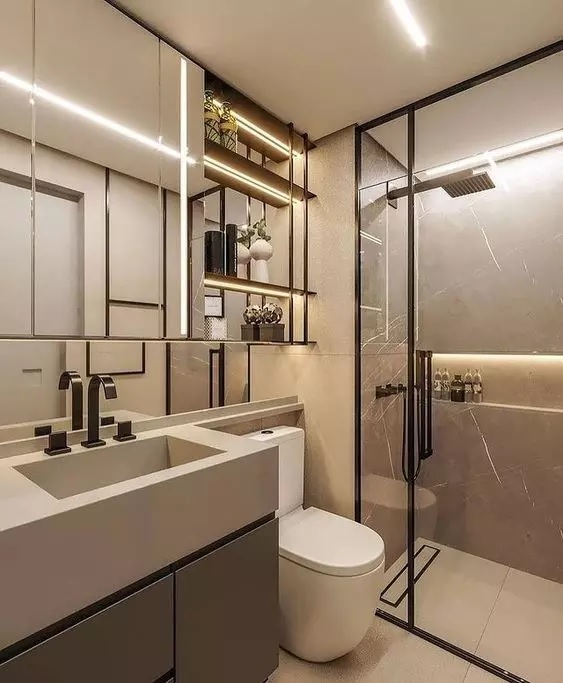 Another tip here is to pay attention to the type of bathroom tub . Give preference to overlapping vats to free up as much cabinet space as possible, or use semi-fitting vats in case of very narrow cabinets.
In small bathrooms, a corner shower can help free up space. In addition, the use of sliding doors both in the box and in the entrance also performs this function, facilitating the allocation of furniture and circulation.
3. Bathroom coverings
There is no shortage of coating options to facilitate the creative work of professionals. It is not new that colors and texture effects are combined in compositions, whether for monochromatic or high-contrast effects.
When using paint, always opt for an epoxy type as they are water resistant. For wet areas such as showers, it is preferable to use a ceramic coating or natural stone instead of paint. Ceramic coverings, for example, whether porcelain, tile or ceramic, are easier to clean, have a longer service life and are resistant to abrasion.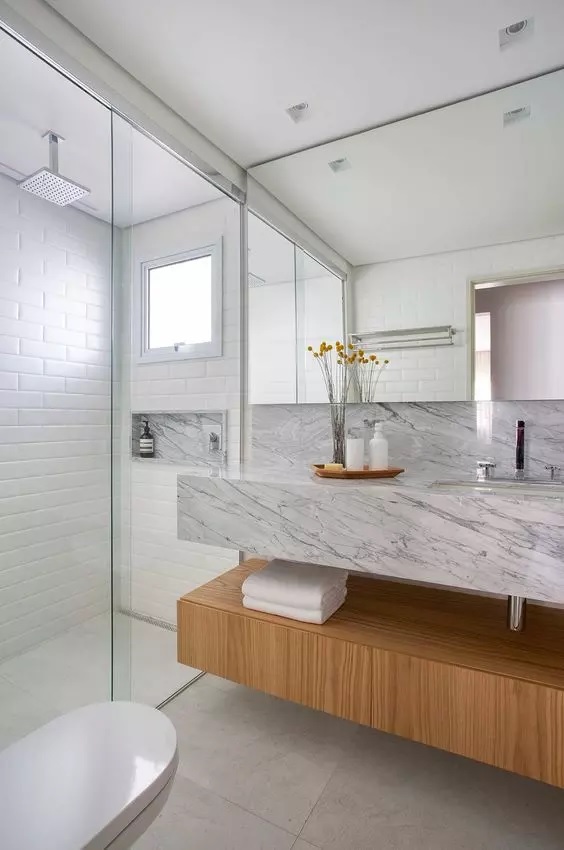 In larger budget projects, the cladding can be done in natural stone, but care must be taken, especially with marble. It is necessary to know the porosity of the material, which will indicate the resistance to infiltration and the appearance of stains. In general, the lighter the marble, the less resistant to stains.
Avoid applying regular wallpaper and paint, as well as small-format ceramic tiles on the floor. These are products that wear out easily due to moisture or abrasion. On the floor, excess grout makes it difficult to clean the surface and may require short-term repairs. Also avoid the use of polished floors as they are slippery and the application of unsuitable products such as laminated piss , wood and some types of vinyl flooring .
4. Crockery and Metalwork
There are also a plethora of design of these products on the market. There is something for every taste and budget. But what really matters is that the products have a unit. Therefore, always choose metals from the same line, all square or round, all black or stainless steel, and so on.
Crockery today is found in different colors and shapes. In general, the same idea of ​​following the design pattern and colors also applies to them.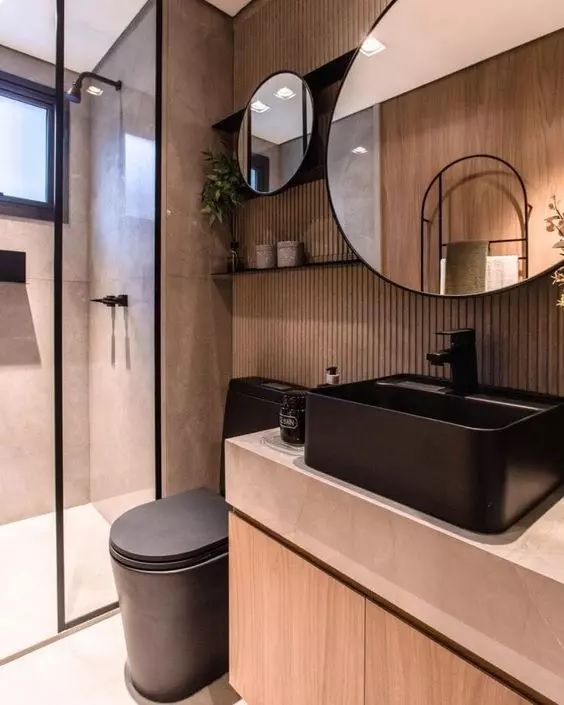 With an increasingly demanding public and easy access to information, architects and interior designers are looking for solutions to differentiate themselves in the job market. One of them is to bet on locksmith projects, replacing some common metal products such as towel holders, paper holders, among others.
5. Table tops and Furniture
The choice of finish for countertops in bathrooms is always a question for many professionals. Again, the range of products is quite wide, starting with stones: we have granite, marble and quartz. In the case of marble and granite, prefer the most marked and dark ones, as they tend to better withstand the possibility of stains.
Now, if you are looking for pure white or uniform colors, opt for quartz surfaces, which are composed of rocks and resins, being highly resistant to stains, infiltration and impacts.
In addition to these options, porcelain tiles in medium and large formats are an excellent substitute for previous products. This is because they are more resistant than natural stones and have patterns that faithfully imitate them.
When we talk about furniture, the design can vary greatly depending on the needs of each client, size of the environment and budget. The cheapest finishes are in the melamine pattern. When it comes to a single color, a good investment is in lacquered planned furniture. Both surfaces are resistant as long as they are not in direct contact with water.
The tip is to always have drawers or a mirror with a shelf for everyday items and smaller dimensions, combined with larger doors or drawers to accommodate cleaning products and bathing suits.
6. Bathroom Lighting
In any environment, lighting plays a fundamental role in carrying out activities and in providing a feeling of comfort. Looking at the bathrooms, both natural and artificial lighting are important, as it is a place for hygiene, relaxation and aesthetic care. Therefore, a lighting project can save a bathroom or make it unsuitable, especially for aesthetic care, so there are some issues that need to be considered.
The first is that, as they are humid environments, not all types of lamps resist well, so opt for sealed lamps, they are usually the PAR 20 type, especially those allocated in the box area.
The second point is the color temperature of the light , the ideal is cold and neutral color lamps, around 4000k. This is because yellow lights interfere with the user's perception of colors, implying changes in the case of makeup, for example.
As for the distribution of light sources, for makeup, shaving and skin care , the ideal is a frontal light source, which can be done through sconces or LED profiles next to the mirror. General lighting should be either centralized or distributed between the washbasin area, toilet and shower area.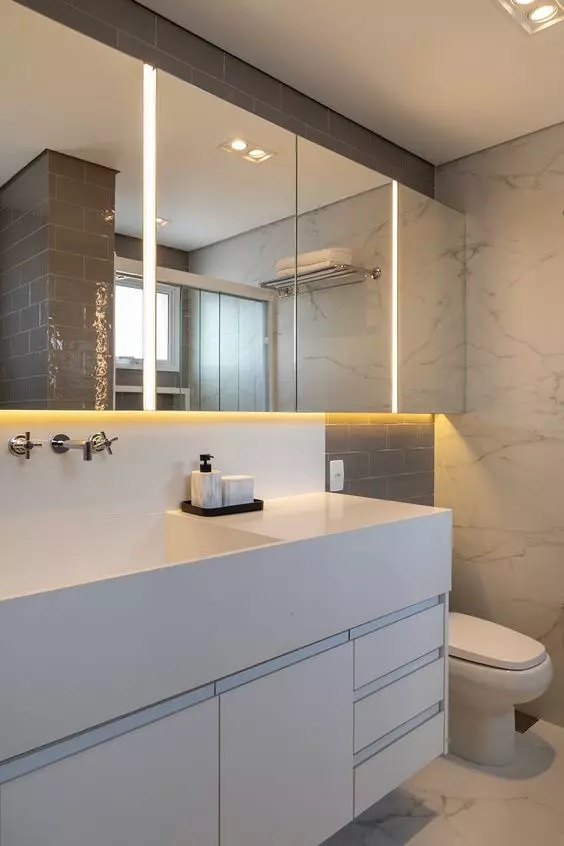 As this is also an environment for relaxing, imagine that you are planning to allocate a bathtub, in which case it makes perfect sense to also propose lighting focused on this experience with warmer and more diffused lights.
7. Bathroom Decoration
Anyone who thinks that paintings, plants and ornaments are just elements for the living room is wrong. All of them can be placed in bathrooms, provided, of course, there is space and they complement each other harmoniously. Here, plants also come in , which are synonymous with living space and well-being. In the bathrooms, a good option are those that like shade.
Another cool feature in homes is to make the bathroom facing a garden or even the garden itself inside the bathroom by working with zenith transparency to illuminate them.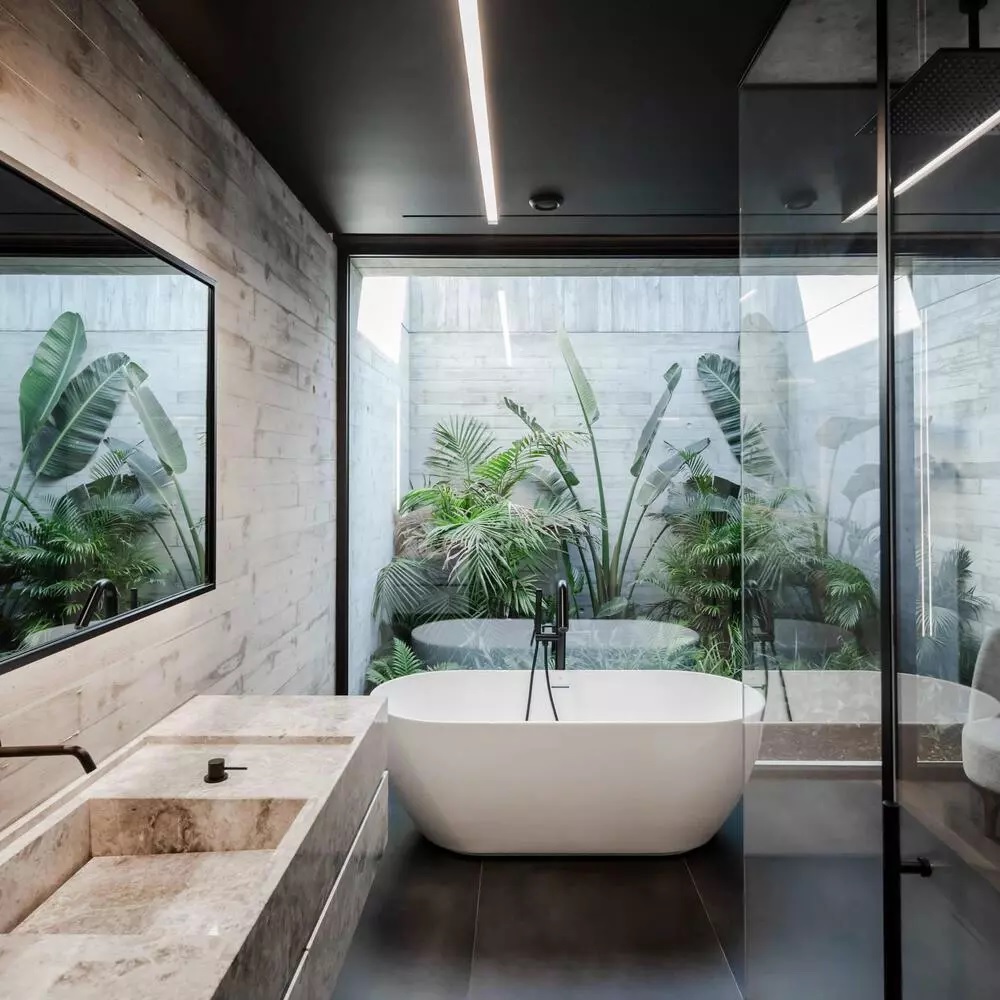 In smaller decoration items, there may be room perfume diffusers, soap accessories, among others. The decor doesn't stop there, the paintings are also interesting and break the monotony of the bathroom.
Finally, more and more spaces are designed not only for function or aesthetics, but to be Instagrammable, for that selfie before leaving home. In this sense, betting on bathrooms is a good idea, they are small spaces that are usually closed and, therefore, the risk of getting bored of the decor is lower.
Bet on this environment as a protagonist and make it a good surprise in your projects, also bringing your client's personality and lifestyle to it.