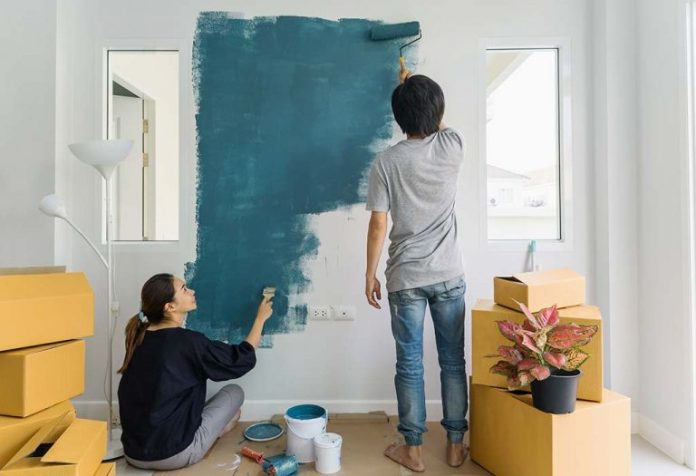 The wall is one of the first things that catches your eye as soon as you enter the house, because it has a lot of space throughout the house, transforming it from a boring, stereotypical home into a house with something different from life. There are many designs for wall decoration, from wallpaper to brick and wooden walls, but there are designs and shapes that can be implemented without an engineering designer or huge money.
A wall decorated in the right way can do wonders in a room. For example, a mirror on the wall can create an illusion and make a small room look bigger, and the corners of small hanging tree plants can bring green to the room and make the room fresh and lively. Looking for a way to create something cool for a boring blank wall? Well, here are 10 interesting, amazing and easy DIY wall ideas that will make your boring wall vivid and colorful.
1- Decorative wallpaper
Wallpaper is one of the practical things to change the decoration of a wall, as it is considered not very expensive compared to other materials, making it one of the appropriate materials for the price.
Currently, wallpapers of various forms are available: embossed, plain, multi-colored, geometric shapes or drawings related to nature.
There are some types of wallpaper with embossed or three-dimensional figures, some with a wood or silk feel, and some with a bronze luster.

The wallpaper is no longer the traditional paper, but a lot of modern, advanced and practical plastic materials have appeared. It was also difficult to tear or get dirty. Clean or replace without disturbing the wall itself.

Currently, most people tend to use the current wallpaper because of the low price and the low effort required to decorate the walls.

The wallpaper installation method is one of the easiest ways to change the wall decoration, so you can change the look of any wall in your home in less than an hour without spending a lot of effort or a lot of money.
2- wall art decoration
Painting on a wall is an art used as a decoration to show off a wall beautifully, such as painting an oil painting that has a nice appearance inside.
Perhaps what distinguishes this type of wall decoration is the possibility to draw the owner of the place directly on the wall, provided you have the talent and tools used for painting.
There is also a poster for those who are not good at drawing, so it is very easy to use because you can stick it on the wall and add paint or color to make the picture look perfect. And beautifully.

Also, painting on the wall is characterized by being able to change and color it as desired according to the taste of the owner of the place, and there are many types of paints suitable for painting on this type of wall.

There are many pictures that fit each room, there are cartoon characters that you can draw in the children's room, there are romantic pictures that you can draw in the bedroom, and there are geometric shapes that suit the living room, and so on. many and many examples.
3- Wooden wall decoration
Some people have recently turned to using wood for wall decoration because there are some types of cheap wood that have been engineered to be suitable for use in wall decoration.
Just as the color of the wood on the wall gives it a wonderful look that blends in with nature, the wood also gives it an ancient historical spirit.
cool ideas for wall decoration
Have you ever made your own wall decorations at home? If you haven't already, here are 10 creative and cool wall decoration ideas you can try.
1. Hang the picture frame on the wall using a wall rope
Your personality is reflected in the wall decoration.
Also read: 
20 Simple Ways to Cool Your Room Naturally
The walls and their decorations can convey the spirit of truth to the homeowner, so it would be wrong to hang unique family paintings or decorative pieces that represent the character of the house and even the character of the owner. If you're a fan of handicrafts, you can hang it on your wall to reflect your personality.
This is one of the best ideas for DIY wall decoration in your bedroom. The most interesting thing about this piece is that you can keep a good memory (reading the picture) as most of it is handmade.
Things that you need
Your home may have everything you need to showcase your photos. Old or unused items are available.
Large photo frames (as large as you want).

Paint (of course any color that complements the walls and the room).

paint brush

chain or wire

pin
what should we do
First, paint the frame and let it dry completely.

Then use glue to secure the chain or wire to the frame.

Once the threads or wires are installed, use clothespins to place the drawings one by one (you can wrap some decorative ribbon around them or paint them to make the pins look nice and lively).
2. Collage
collection of one or more wall decoration elements
If you have a very large area of ​​a wall, it's a good idea to assemble one or more panels or designs to create a modern, funky wall decoration. You can use some of them to put furniture next to you, such as benches and tables, or add large pots and lights to take up space nicely.
This beautiful piece will make your room lively. Most importantly, being able to use recycled materials is more interesting in itself.
Things that you need
The materials you need are readily available at home, so your pockets are not affected.
Color pages of magazines and newspapers.

glue

scissors

stationery knife

A piece of cardboard (depending on the size of the larger picture you want).

pencil

stencil – stencil – (if you cannot draw by hand)
what should we do
Draw the outline of the character on the cardboard you want to assemble.

Cut out the figure using a stationary knife.

Then cut the long strips with scissors (take a color page from a glossy magazine or newspaper)

Glue them one by one vertically to the pieces.

Cut off excess paper from the sides.

When finished, you can frame it.
3. Rope wall design
When decorating a wall, you must first measure the size of the wall. For example, if your wall does not exceed three to four feet wide, you should put in panels and small decorations and never try to fill it. Although the wall is decorated with large paintings or wallpaper, if you want to decorate a large and spacious wall, such as the wall next to the TV or behind the sofa, use drawings, ideas, and large paintings to fill the space without being excessive.
It's a hassle-free way to put your emotions into a piece of art. This is one of the best wall hanging ideas you can try.
Things that you need
Wall decoration supplies are easy to find at any hardware store, and you can find them all at home as well.
A piece of wood plank (any shape).

Wax paper or parchment paper (board size).

Mix – 1/4 cup cornstarch, a jar of grass, a little water

Rope (long enough to form a floor or design)

small nails

hammer
what should we do
First of all, the board is spray painted and dried.

Then place the wax or parchment paper on the board and trace the letters or designs on it.

Then dip the rope in the paste, cornstarch and starch mixture.

According to the pattern of wax paper or imitation, follow the letter or pattern with a string, and use a weight to keep the pattern as it is.

Once dry, place the rope design on the board and secure with small nails.
4. A decorative stick of wood or metal for collecting pieces on the wall
If you're someone who wants to create a traditional piece of art in your home, try this wall art in your living room. It requires inexpensive materials and is very easy to make.
Things that you need
Most of the requirements for this are readily available at home.
bamboo skewers

soft styrofoam ball

Spray paint – metallic silver and soft white colors

sandpaper

 industrial fixtures
what should we do
Spray paint white balls and silver skewers.

Then use a fine line on the ball to let the paint dry and insert a ¼ skewer into it.

ball all over.

Then, when you're done with that line, put the skewer on top as well (fill one side of the ball completely with the skewer).

White concentrated spray paint (bottom of the skewer).

When the paint dries, sand the back of the flat ball and attach the velcro so it can stick to the wall.
5. Embroidery on the wall
Simple, easy and colorful wall hangings help to brighten up your walls and add personality to your room.
Things that you need
To make this wall colorful, you first need to decide on a color scheme. Just clean up and go.
Colored knitting yarn (two colors)

Embroidery hooks (various sizes)

Long wooden sewing pins (cut 1 inch on each side and smooth with sandpaper)

sandpaper

stationery knife

dendrite
what should we do
Within a larger loop, use each loop instead of a smaller one.

Then take one side of the smaller ring and place it on one side of the larger ring.

Then attach the knitting pins to the two loops (they should be placed horizontally where the two loops are attached).

Then cut a single strand of the middle section 34 inches.

Cut different colored threads for the loop to 34″ and 36″ lengths.

Then take 5 threads and tie a knot at the top.

For the hoop, use 36 inches of thread (for the sides) and 34 inches of long thread in the middle of the hoop. Tie them all with a hair knot.

When all the strap strips are in place, even out the strips on the floor.
6. Colorful Dipped Spoons
This wall art piece can accent your kitchen or dining room walls and add some light to your walls.
Things that you need
Latex paint – multiple colors

paint brush

Spoons (various types and light weight)

Tape (simple tape and double-sided tape)

scissors
what should we do
Put the spoon in the paint and scrape off the remaining paint so that it does not stick to the spoon.

Tape the spoon to the end of the table (store dew-coated paper on the floor).

Once dry, place them on the floor to determine which spoon suits you best.

Tape over the line, measure the next two layers with the size of a spoon and tape (the gap between the two layers must be the same).

Use double-sided tape to hold the spoon against the wall.
7. The Art of Coloring
This wall art piece is perfect as a wall decoration in your kids bedroom. It looks great and adds color to walls and rooms.
Things that you need
It is easy to make by yourself, and you can ask a small child for help.
Different colors and colors of chalk (leave black, gray, brown, silver and gold).

hot glue gun

canvas

heat gun
what should we do
Place the chalk on the table and place it however you like on the blackboard.
Then use a glue gun to stick the chalk to the canvas (chalk sticks can be applied with or without a wrapper).

Lay the fabric slightly upright and place it on the table.
Once you have glued all the chalk to the fabric, it will start to heat up the sharp point of the chalk (before you start

Don't forget to put a piece of paper under the board to melt the crayons and spoil the table).

When the chalk is heated, it melts and stretches onto the fabric. Continue the process with another chalk. 
Once all the chalk has melted and the bold is removed, use a heat gun to scrape it off and remove the excess wax from the edges.
8. Carpentry decoration on the wall
For wooden wall decoration, it is best to use driftwood. Use this type of wood to give your wall art a rustic charm and add color to the wood to make it a bright and lively piece of art.
Also read: 
Grease on Clothes: How to Remove It Permanently with Simple Home Remedies
Things that you need
This work of art requires fewer resources and can be completed in time.
Laminated wood pieces (cut into rectangles and squares of various sizes).

Fingernail

hammer

paint (different colors)

sandpaper
what should we do
Place each piece you want to place first on the floor.

Then, starting in the center, screw the other nail onto it.

Continue fixing each piece with the other until everything comes together.

Then paint each wooden block a different color as desired.

When the paint dries properly, sand all the paint blocks to create a "worn out" look.

Finally, a mixture of 2/3 coconut oil and 1/3 pine wax is applied to the surface.

Leave it on for 24 hours to absorb oil and wax and coat the surface.

When ready, frame it.
9. The art of spinning and sewing
This affordable and easy-to-make piece of art exudes a rustic charm. It can be placed in the living room, bedroom or nursery.
Things that you need
This piece can be easily made from materials readily available at any home. It is one of the best ideas for wall decoration by combining thread, wood, and metal (iron nails).
thick thread

wooden board

wooden frame (frame should be as thick as plank or thicker)

screws and bolts

hammer

dues

brush
what should we do
Paint the palette any color you like. White or light brown is preferred (the coating should have a matte appearance).

Make awesome words in sentence stencil design on paper.

Cut it out and stick it on the board to find it.

It then places points along the specified line.

If you have a point, drill a small hole so you can screw it in.

Then use the thread to draw the path.

Wrap the thread around your nails and start working.

When done, attach the frame.
10. Make a mirror frame with a plastic spoon
The plastic spoons used for mirror wall art are pretty underrated. DIY works are very good value for money, mainly because they use plastic spoons.
Things that you need
The requirements for this piece of art are not provided by default. Using cheap and simple materials, turn a simple mirror into a beautiful work of art.
plastic spoon (you will need a lot)

cardboard

round mirror

hot glue gun

primer

spray paint

acrylic paint

brush
what should we do
Grab a circle slightly smaller than the mirror and draw a circle. Take a slightly larger circle and trace the other circle.

Cut out small and large circles with a knife.

Then start cutting the spoon head with scissors.

When you're done cutting, start laying the spoon heads with hot glue (one spoon head on top, the next one down, and the third spoon back on the same line as the first one) on the cutting circle.

After attaching all the spoons, apply several layers of primer and silver spray paint.

After drying, start painting the inner ring with a darker acrylic paint (the color that works for you).

Makes the shading lighter when painting on top (you can make a lighter shade by mixing a darker color with a white primer).

For the next shade, I add white paint for a lighter shade.

Continue working until the last loop by adding more white paint to the darker colors, giving you a lighter shade as you go up.

After the paint dries, attach the mirror to the back with hot glue.

You can hang it by placing strong jute twine with hot glue on the back of the mirror.
These creative home decoration ideas for wall art are easy to make and the things you need are readily available. Try some or all of these awesome DIY decorations and feel proud and accomplished whenever someone compliments your craft.