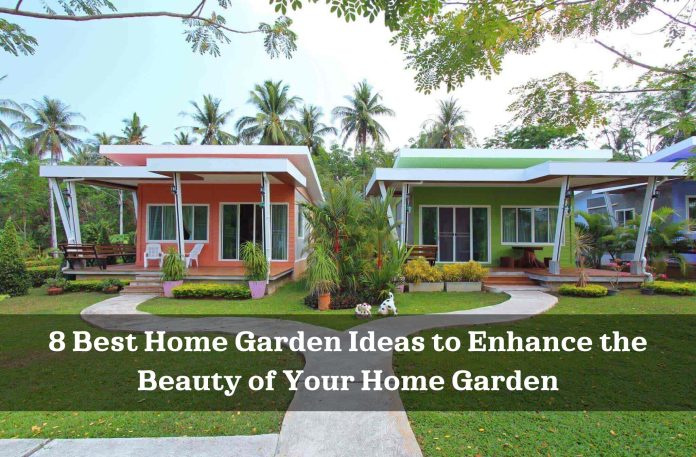 Expansive lawn or home garden filled with beautiful pots, green spaces, and even basic plants are full of creativity and make great gardening ideas. You can transform your home garden and let your imagination run wild by doing some garden decorations. A home garden can transform a modest balcony into a beautiful space for your family to sit back and relax after a tiring day.
You can use these easy garden decor or gardening ideas to accentuate the garden in your home.
Home Garden Ideas
A structure of stone:
A huge/small boulder (depending on the size of your garden) sitting in the middle of the plants will make a statement. The beauty of the rocks will enhance the beauty of the home garden. You can also use a stone planter of your choice to make your garden decor look more elegant.
Wall painting:
A Wall painting is a great gardening idea because it shows your love for Indian art. People can decorate their home garden space with some traditional tribal patterns. This art form can also be used as a DIY home gardening project. Put all your time and passion into giving your home garden decor a much-needed makeover.
An observation deck:
If you have a large house with a backyard, you can build a viewing deck around a tall tree. This will bathe you in shade as you gaze at the beautiful sky, birds and plants.
A Zen space:
A tall Buddha statue surrounded by flowers will enhance your homr garden decor and create a Zen-like feel on your lawn.
Stepwell in the garden:
Likewise, if you have a huge backyard, building a step well in the middle of your home garden will add to its natural beauty. This will be the center of attraction in your backyard. Make sure to use intricate patterns, use mosaic tiles that allow you to enjoy the sparkle in all the greenery.
Fountain:
This can also be used for small gardens. You can replace the large fountain with a smaller version. Adding a fountain to your home garden decor will allow birds to come to your lawn to drink. This will also make your garden look more majestic.
Swings:
You can add actual swings or even replace them with bird feeders. These bird feeders will enhance the stunning setting in your home garden.
Adding fences
If you have a garden with lots of open space, fencing is a wise decision. Although the fence may look boring, you can add creativity to your fence by painting. This will ensure that your home garden has an artistic element..
Outdoor furniture:
Adding outdoor furniture to your home garden is an easy way to decorate it. You can choose to add logs without giving up their natural charm. You can also choose a specific style of furniture that matches the ambience of your home garden.
Conclusion
Home garden decorating is a very personal job, one that is close to your heart. Putting in the time and effort will make your home garden look very elegant.