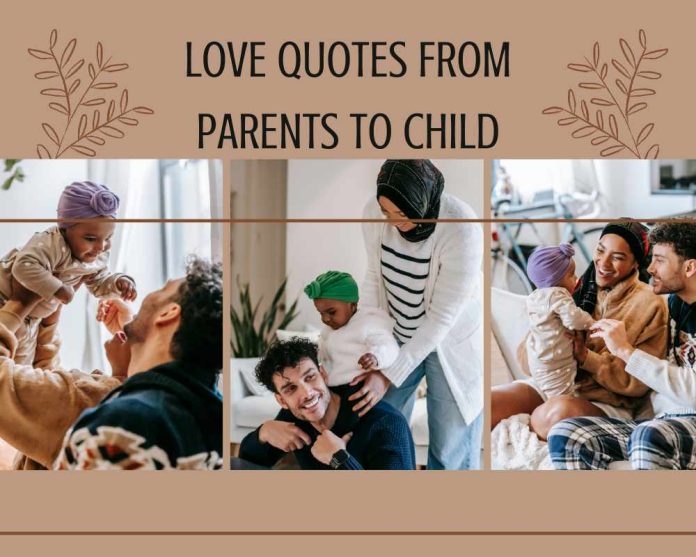 Love is an abstract concept. Help your child visualize how deep and magnificent your love is with comparison quotes that show your feelings about other monumental things. These images help young children understand the difficult concept of strong emotions and are more specific to people of all ages.
Quote from Parents to their Child
I love you stronger than iron and softer than feathers.

My love for you can stretch all over the world countless times, and when worlds are eclipsed, my love can last forever through the galaxy.

If my love for you had any color, it would be the whole rainbow.

I love you like a warm touch of the sun's rays. Gently heats your soul at the first chance of a chill.

My love for you is bigger than the sky and wider than the galaxy.

My love for you is the guiding star that leads me to great adventures in a new world.

From the moment you were born, you became the sun of my planet.

Like a squad of superheroes, our love is strongest when given together.

You are the best thing I've ever done in my life.

Even if my knees are too small, my heart will always have enough room for you.

I know you've grown up now, but my heart doesn't realize it. In my heart you will always be my sweet baby.

I was not a perfect person, but one thing I will never regret is taking you into this world.

I saw the best parts of myself reflected in you, but you made all those qualities even better.

When it's tough and your luck seems about to fail when your friends turn their back on you, know that I will always be just a phone call away.

I know you have to walk your own path. But let my love be the light that guides you.

It's a beautiful thing to see other adults roaming the world with my heart beating.

I love you for the baby you were and for the man (or woman) you are today.

Butterflies have wings so they can fly. Fish have gills so they can swim. Rabbits have four legs, so they can run. I have a heart to love you.

Can you see the stars? I made a wish on one and got you.

Nothing bad can change my love.

Wherever you go, my love is with you.

I hug you, kiss you and tell you I love you, full of joy. I will hug you and kiss you and tell you I love you more so you will be full too.

I love you when I wake up in the morning I love you all day long. I love you in my dreams at night.

There is nothing more important than my love for you.

Playing with you is the happiest moment of my day.

There are thousands of children in the world. I am lucky enough to bring you.

There is no love deeper and truer than the love I give you.

You deserve the best I can give and as long as you live it is my undying love.

There are no words to describe when I think of how much I love you. I love you because you are you. It's simple and plain.

You may not be small anymore or need my help for all, but you will always need the love of my heart, especially when we are apart.

They say one plus one is two and one plus two is three but through love our one plus one is you and one plus two is us.

Your love has discovered a part of me I didn't know, and now my heart is fully revealed and wide open to revealed love.

My love always speaks to your heart against your long lost opponent.

you are ours we are you From the moon to the stars, our love lasts as long as the wind soars.

From the moment they held you in my arms, it became my life's work to keep you from harm.

You may sometimes wonder why I do what I do. Remember, my child, all my thoughts are for you.

I didn't have to love you. must love you It's the best choice I've ever made.

You may not have my eyes, but you have my love forever.

I 'walked' into my role as your parent. I chose it And none of the choices made me happier.

My love is with you every day. Even on days when you're not with me.

Your love was not given to me when I was born. I work every day to get it.

Being a foster parent is the greatest wedding gift my mom (or dad) has ever given me.

Being your step parent has been the hardest, most heartbreaking, and best thing of my life.

It's love, not DNA, that makes me your mom (or dad).

Families are not like socks. No need to match. They should be warm and cozy.

You are more than my daughter. You are also my dearest friend.

People say little girls are sweet, but they don't even realize they're fierce. I am so proud of your strength.

Daughter, you are more beautiful than flowers and stronger than mountains.

I never knew I could love any woman the way I love my daughter.

Daughter, you are my dream come true.

Daughter, no matter where you go in life, it's just a phone call away.

Daughter, you taught me to braid my hair, make a fairy crown, and love more deeply than I ever thought possible.

Some people love roses or violets, but think they are the most beautiful to watch them grow.

I have never loved anyone like I love my daughter.