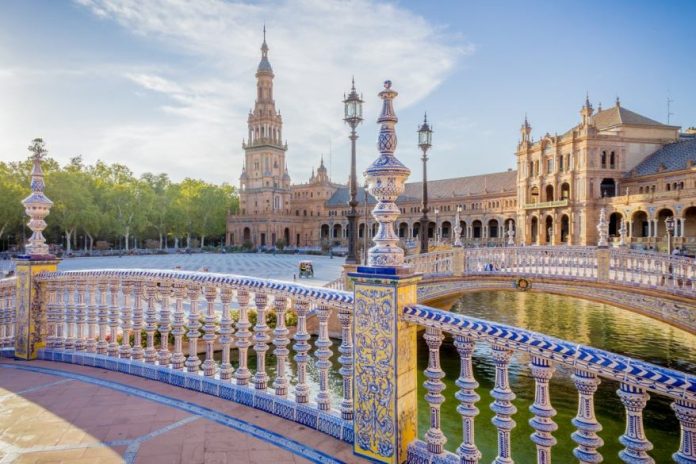 Discovering the Enchanting Allure of Seville: A Perfect 4 Days in Seville, Spain Itinerary
Seville, the heart and soul of Andalusia, Spain, is a city that exudes an irresistible charm and captivates travellers with its rich history, vibrant culture, and warm hospitality. A Seville city break promises an unforgettable experience as you immerse yourself in the essence of Spanish life. In this blog post, we will take you on a journey through Seville, offering insights into planning the perfect 4 days in Seville Spain itinerary, ensuring you make the most of your time in this captivating Andalusian city.. From awe-inspiring landmarks to mouthwatering cuisine, prepare to fall in love with the soulful city of Seville.
Day 1: The Magical Alcazar and Barrio Santa Cruz
Embark on your Seville adventure by delving into its mesmerising history. Start your day at the Alcazar of Seville, a stunning Moorish palace that transports you to a world of intricate arches, lush gardens, and opulent chambers. As you wander through the palace, you'll uncover the echoes of its Moorish and Christian past, marvelling at the architectural wonders that have stood for centuries. The Alcazar's intricate tilework, delicate stucco decorations, and serene courtyards create an atmosphere of enchantment, making it easy to imagine the tales of royalty and nobility that once graced its halls. Don't miss the breathtaking Patio de las Doncellas, a courtyard adorned with geometric patterns and surrounded by stunning arches, representing the epitome of Moorish craftsmanship. As you explore each hall and room, you'll be captivated by the blend of Islamic and Christian influences that define the Alcazar's unique charm, leaving you with a profound appreciation for the cultural fusion that makes Seville such a captivating destination.
Afterwards, explore the enchanting Barrio Santa Cruz, the city's historic Jewish quarter. Lose yourself in its narrow cobblestone streets adorned with colourful bougainvillaea, and stumble upon hidden plazas and charming tapas bars. Savour authentic Andalusian dishes, such as gazpacho and tortilla española, at local eateries, immersing yourself in the culinary delights of Seville.
Day 2: The Giralda, Plaza de España, and Flamenco
Rise early and make your way to the Giralda, the iconic bell tower of Seville's Cathedral. Climb its winding ramps to the top for a breathtaking panoramic view of the city, where the morning light bathes Seville's rooftops in a golden glow. From this vantage point, you can marvel at the intricate details of the cathedral's facade and the surrounding historic buildings. Seville's Cathedral itself is a masterpiece of Gothic architecture, and as you step inside, you'll be in awe of its grandeur and scale. The soaring nave, adorned with ornate altars and majestic stained glass windows, creates an atmosphere of reverence and wonder. Explore the chapels that house revered religious artefacts, including priceless paintings and sculptures that narrate the stories of faith and devotion. As you wander through this majestic cathedral, you'll feel a sense of spiritual connection to the city's rich history and cultural heritage.
Next, head to Plaza de España, a grand semicircular square that epitomises Seville's architectural grandeur. Admire the colourful ceramic tiles representing different provinces of Spain as you take a leisurely stroll around the plaza. Rent a rowboat and glide along the canal, taking in the majestic beauty of the square.
In the evening, immerse yourself in the soul-stirring art of Flamenco, a passionate and heartfelt dance form deeply rooted in Andalusian culture. Attend a Flamenco show at a local tablao, where skilled musicians, singers, and dancers come together to create an unforgettable experience.
Day 3: Triana and the Metropol Parasol
On your third day, cross the Guadalquivir River and explore the lively neighbourhood of Triana. Known for its ceramic workshops and vibrant nightlife, Triana offers a glimpse into the authentic spirit of Seville. Wander through its bustling streets and discover its rich cultural heritage, which has produced legendary Flamenco artists and bullfighters.
Head back to the city centre and visit the Metropol Parasol, a modern architectural marvel also known as Las Setas (The Mushrooms). Ascend to its panoramic terrace to enjoy breathtaking views of Seville's skyline and witness the enchanting sunset over the city.
Day 4: Plaza de Toros, Maria Luisa Park, and Tapas Tasting
Begin your final day in Seville with a visit to the Plaza de Toros de la Real Maestranza, one of Spain's oldest and most significant bullrings. Even if you are not a fan of bullfighting, the history and architecture of this iconic venue are worth exploring.
Spend the rest of the morning strolling through the picturesque Maria Luisa Park, a lush green oasis in the heart of Seville. Admire the ornate fountains, exotic plants, and charming pavilions that make this park a perfect place to unwind.
End your Seville city break with a delightful tapas-tasting experience. Hop from one tapas bar to another, savouring a diverse array of flavours, from savoury jamón ibérico to mouthwatering patatas bravas. The tradition of tapas in Seville is not just about food; it's a social experience that brings people together and perfectly embodies the spirit of Seville's hospitality.
Conclusion
Seville, with its timeless beauty, rich heritage, and soulful atmosphere, promises a city break that will linger in your heart for years to come. From the enchanting Alcazar and historic neighbourhoods to the passionate Flamenco and delectable tapas, every moment in Seville is an opportunity to savour the essence of Spanish culture. Whether you're exploring its awe-inspiring landmarks or embracing its vibrant streets, Seville invites you to immerse yourself in its captivating allure and create unforgettable memories in the heart of Andalusia.