Just yesterday, I spent just over an hour waiting for the phone line to speak to my bank. I looked through the options, pressed the button for the nearest branch, then the next set of options. I spoke to a couple of automatic voices that didn't understand anything and brought me back to the options. In the end, I found a button to talk to a person, got in line and finally timed out.
We've all been there, unfortunately.
When I call customer service, which leads me straight to the person, I almost cry with gratitude. I don't really care about random things about the person I'm talking to, it's just so nice to talk to a real person.
Recent survey from CallCare found that 78% of people prefer a human voice when calling support. And the main reason for this is that you are more likely to get an answer to your specific question. It's about recognizing and treating customers as individuals.
Companies that make you feel cared for are more likely to win customer loyalty. This is especially true for industries that are less price sensitive and have a higher degree of brand association. If you're in a niche industry, this close attention to customer service is essential.
When it comes to the voice characteristics that make customers feel most comfortable, it's a bit like Goldilocks. The British public prefers voices that are neither too low nor too high in tone, and neither too fast nor too slow in their speech. As you can see from the analysis in the picture below, among those who turned out to be "just right" are Cerys Matthews and Dame Judi Dench. Lorraine Kelly is too fast, I have to agree, and Barack Obama's slow pace may help with power dynamics, but it will have most of us drumming our fingers on the bell.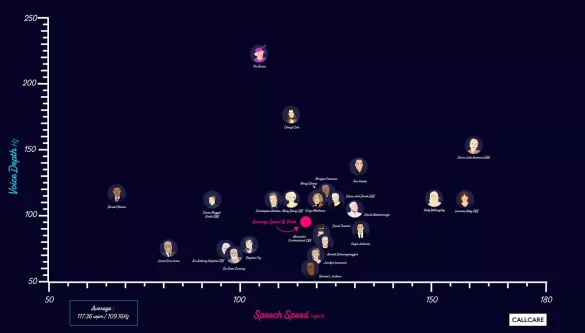 Apparently, some accents are trusted more than others. The British public is more positive towards Scottish and North East English accents and less favorably towards Scousers and Brummies. So a little breather for Lorraine Kelly! Personally, I like all these accents and places. The accent just tells me that this is a real person from a real place.
It's time for me to change banks. And in a market where the difference between price and services offered is very small, the human touch is an outstanding factor.