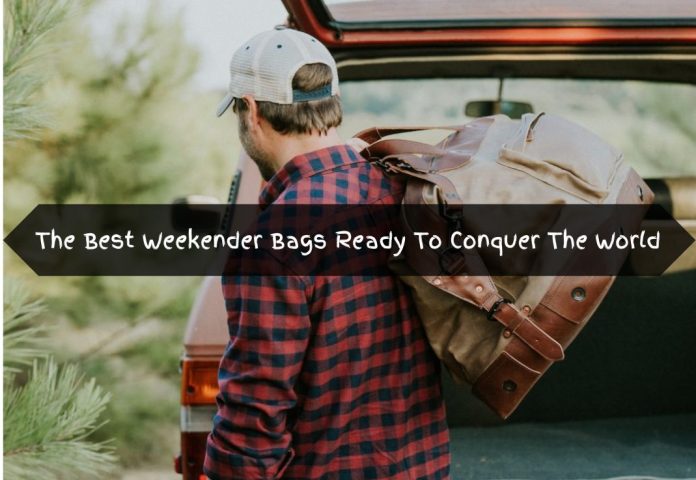 You never know when you will receive an invitation to change your life. Your path to the corner office could be joining the board on the next outing with a last-minute request. Or maybe when that special someone finally takes you to the summer house. Don't scramble when it's too late. Take a look at the best men's Weekender bags and get ready to conquer the occasion.
This comprehensive list of the best Weekender bags brings you the latest styles and trends – from designer Weekender bags made by expert artisans to 100% vegan bags made from recycled materials.
Weekender Bags
Looking to add a stylish and affordable backpack to your collection? We have these too.
Harbor London
Handcrafted in Spain using premium full-grain leather, our go-to weekend bag has everything. The spacious interior features a zipped pocket for secure storage. On the outside, everything is at your fingertips, with seven different pockets to choose from, plus a plush handle and detachable leather shoulder strap.
The Harbour London Leather Weekend Bag is just the right size. Big enough to hold your belongings, but still fit for ever-shrinking airline cabin requirements.
Luca Faloni
With one touch, you will feel the passion of every Luca Faloni bag. The 'pieno fiore' (full grain) leather is sourced from the Santa Croce region of Italy, traditionally tanned with vegetable oils and sure to age perfectly.
Handcrafted by experienced artisans, these men's leather travel Weekender  bags add a small outer pocket and three inner pockets to keep your belongings organized. The Luca Faloni Weekender is an excellent choice that will stand the test of time.
Dagne Dover Landon
This men's travel bag combines great value with great looks. COOLER: Dagne Dover puts the planet first, using 23 recycled bottles for the lining, shoe bag and dust bag of each bag.
With an internal laptop sleeve, the premium neoprene construction is easy to clean, while a high-performance air mesh keeps you cool. The Dagne Dover Landon Tote is one of the best duffel bags for men and a great example of getting it all without breaking the bank.
Horizn Studios SoFo
Thanks to the high-density weave, the SoFo Weekender Bag is virtually impervious to water and heat, while retaining its lightweight canvas character. A recycled cotton canvas outer, recycled polyester lining and recycled nylon mesh combine to create an eco-friendly, vegan men's travel bag.
The Horizn Studios SoFo Weekender M Bag for Men is a great companion for city jaunts, long trips, and everything in between. Horizn Studios also makes some of the best carry-on luggage we've found.
Bellroy
Organization met its match. Using a dedicated "tool strap" that keeps all interior pockets and zippers at the same height, this spacious weekend travel duffel bag and its wide opening allow easy access to your items.
Even though it can hold enough stuff for multiple nights of travel, the Bellroy Weekender Plus still fits nicely under one arm and is an excellent travel duffel bag.
Robert Graham
Veganism goes well beyond dietary considerations, but sometimes it's hard to miss the trendy style of traditional leather. Now you don't have to choose.
This great travel duffel bag combines vegan standards into a stylish bag that looks like real leather. Internal and external zippered pockets keep your belongings safe. The 100% vegan Robert Graham Blain II also has a look made from 58% recycled products.
Longchamp Boxford
Deciding what to bring and what to leave is never fun. Why not pack it all in an oversized weekend bag?
This stylish bag features a foldable top, detachable shoulder strap and top zipper for easy portability. The Longchamp Boxford Men's Oversized Travel Bag offers a way to avoid compromise.
If you still need more space, check out our list of the best luggage brands.
Mulberry Clipper
Safety should always be a top priority. Now it doesn't have to be ugly. This double handle overnight bag looks great and comes with a small padlock to keep your belongings in place.
Bright tan trim contrasts with the black pebble leather exterior for a pop of style. When in doubt, buy the Mulberry Clipper leather tote with built-in padlock.
Bottega Veneta
Luxury doesn't have to mean a bold statement. Soft pieces are the most timeless and versatile.
Made from premium Italian leather, this spacious designer weekend bag features two stylish handles and a detachable shoulder strap. The Bottega Veneta leather duffel bag is the perfect understated match for those who like to fly under the radar while maintaining high style.
Away Large Everywhere
When you need to bring your laptop and clothes for a few nights, getting a bag that will do the job is crucial. One with a laptop sleeve and enough space to keep you stylish on the go.
The Away Large Everywhere Bag lives up to its name. The full wraparound zip opens to a large interior compartment, while the outer nylon is durable and features slip-on trolley covers to make those fast-paced airport walks effortless.
Cuyana Triple Zipper
Most men's Weekender bags have a main compartment and several zipped pockets. This one flips the table over and features three separate exterior zippered compartments and three interior slip pockets for maximum organization.
The Cuyana Triple Zipper Weekender Bags have sturdy leather handles and a detachable leather shoulder strap for easy portability.
Best weekender bags for women
Cuyana Triple Zipper
It's no secret that we love this timeless fashion brand. But this three-zip weekender has exceeded our sky-high expectations.
This is the St. Louis of the travel bag. And come in natural tan, smooth black and muted grey. Made in Turkey, Cuyana features sustainable sturdy cotton canvas and Italian leather trim. Check out our dedicated Cuyana review to learn more about the brand's story.
This thoughtful weekend getaway has everything you need to make your life easy. The Cuyana Triple Zipper is the perfect excuse to book a weekend trip (we all have weeks like this).
Dagne Dover Landon Carryall
Whether you're rooting at a yoga retreat or stopping by the pool – this bag will take you away and take your worries away.
Lightweight on the shoulders, this neoprene travel tote is crafted with recycled bottle caps. Laptop sleeves fit most 16″ laptops. The hand luggage handle makes it the perfect carry-on item. It's available in a variety of colors – from onyx black to deep moss green to dusty dune pink and more.
Gucci Duffle
This Gucci duffle bag is designed for men. But that never stopped the edgy women of our past.
Made from Italian leather, these women's travel bags are designed for luxury. A sleek black duffel bag with the latest Gucci graphic embossed on the bag for a sophisticated sheen.
Either way, you'll want to show off these designer duffel bags soon. (Prompt to search for flight specials).
Horizn Studios
This multi-faceted travel assistant is perfect for your weekend getaway. It might also get you to the gym without protest (no commitment there.)
Canvas tote bags are your new soulmate. It will protect your secrets in a sustainable, splash-proof way. Sturdy fabric designed for the adventure of a lifetime. The sleek design comes in sophisticated black, dark olive and soft sand.
Even if you don't take any Pilates classes, this lightweight weekend tour from Horizn Studios is easy to get started. It can endure long journeys comfortably.
Bellroy Weekender
have a nice trip. Let this casually clever travel bag handle the rest.
With pockets in all the right places, Bellroy values practicality and style. Durable nylon fabric is built to last. The chic design features all-black, charcoal and pale moon shades.
A smooth trip starts with the right travel tote. If you're prone to rushing to grab your boarding pass at the last minute, then Bellroy Weekend is for you.
Rimowa Never Still
Business travel may not always be fun. But they should succeed. The right weekender can help.
Your bag should attract potential customers with its strength. It should roll with a strong stance. It should stack the ruffled shirts in an organized fashion. Featuring a laptop sleeve and adjustable shoulder straps – this sleek black overnight bag will take you from the office straight to your hotel room.
Bluboon Travel Duffel
Nobody likes shoes in soft chiffon. We're not trying to insult your favorite white sneakers, we're just suggesting they take their rightful place.
The dust from your feet is neatly tucked away, and you can focus on the fun prints these funky duffel bags have to offer. From bright sunflowers to wild leopard designs – Bluboon Travel Duffels are the perfect accessory to spice up your girls' weekend getaway (just like you need it).
Calpak Luka Duffel
The quilted bag is a timeless design that reminds us of a Chanel classic. This Luka duffel bag maintains its signature sophistication while keeping everything under control.
This lightweight travel bag has nine pockets to separate socks from pajamas. The soft design comes in a range of unique colorways. Metallic Bronze, Chocolate Brown and Brick Orange are our top picks, but you'll have to look at them before making a decision.
Dagne Dover Dakota
Can't we just pack all our weekend essentials into our backpacks? challenge accepted.
The large Dakota has enough space for your clothes, toiletries and NutriBullet (depending on how many shoes you pack). The waterproof fabric will keep your back safe from rain or shine. This luxurious travel companion is available in a variety of colours – from dark moss green to stormy navy to dusty dune pink.
This modern backpack from Dagne Dover will lighten your load and lighten your load – giving you the rest you deserve.