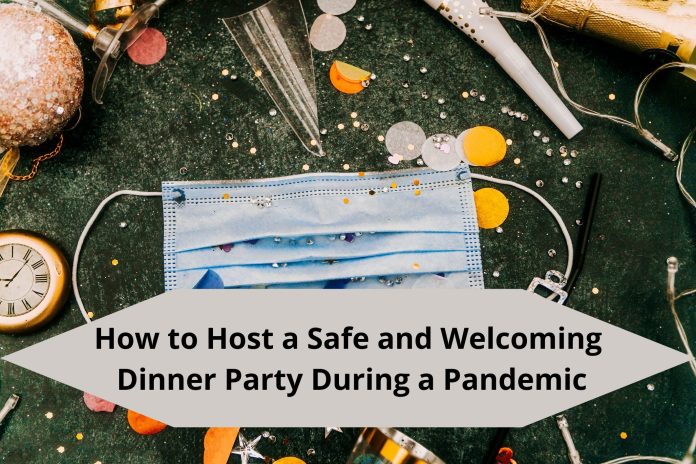 With hot summer nights morphing into cool fall nights, hosting a cozy outdoor dinner seems appealing. It's a chance to share your favorite fall comfort foods with friends and family, toast marshmallows by a fire pit under a warm blanket, and enjoy the fresh fall air before winter forces us in. But can you safely host a dinner party during a pandemic? The answer is probably yes. Follow these simple tips for a seamless and safe night.
Eat outside and maintain six feet.
The Centers for Disease Control (CDC) recommends that outdoor spaces are less risky than indoor spaces because it's easier for people to stay 6 feet apart and there's better ventilation outside. 1 Host the entire event outdoors and consider the number of people who can safely fit your outdoor space while maintaining six feet between households. If it gets cooler at night, consider investing in outdoor heat lamps and ask guests to bring blankets or warm clothing.
Establish a seating area for each household
Provide each household with its own table or picnic blanket, and space each seating area at least six feet from each other. This allows guests to safely enjoy their meals while maintaining social distancing. As the size of the gathering increases, so does the potential risk of transmission; keep the number of guests small and invite only one other household or less than 10 people (or check with your area for recommended limits) so that all your guests all feel comfortable.
Minimize the number of people handling and serving food
There are several ways to do this. One is to provide each household with a separate buffet area so that guests can safely serve themselves. To do this, each household divides each dish into a bowl. Your guests will be the only ones handling the food throughout the evening. Designate one person (or yourself) to provide any shareable items, such as condiments or dressings, or one for each household.
Alternatively, ask your guests to stay out of the kitchen or any area where food is prepared. Ideally, your family should be the only ones handling the food.
Please note that while COVID-19 is not spread through food, it is important to wash your hands frequently when preparing food and touching bowls or utensils that guests may come into contact with later.
Use disposables and set one garbage can for each household
Use all single-use cutlery, plates, napkins and cups, and provide each household with its own trash bag. Guests can clean up themselves, reducing the need for anyone to get inside. Handy Sharpie markers for every family so everyone can write their name on their disposable cups.
Communicate ground rules before guests arrive
Remind your guests to maintain social distancing and wear a mask when skipping meals or unable to maintain proper distance. Let them know if they have access to the bathroom, and if so, which one will be designated for guest use.
Remember, no social interaction is risk-free, but you can safely minimize risk with each of these tips. Continue to follow CDC recommendations to protect yourself and others, and enjoy social distancing nights!